Sainsbury's
Equal Pay Claim
Thousands of Sainsbury's store workers have joined Equal Pay Now to bring a legal claim against the company. Their demand is clear. They want to be treated fairly. This means being paid a wage that would put them on an equal footing with their colleagues in other parts of the business.
For too long supermarket store workers have been under-appreciated and undervalued by the companies they work for. Men and women on shop floors across Britain do a challenging job and work long hours. They interact with customers throughout their shifts, which is a key part of their supermarket's success.
Despite this, they are paid less than their co-workers in warehouse and distribution centres, whose roles are wrongly deemed to be more taxing.
If we succeed in Bringing a claim against Sainsbury's, store workers at Sainsbury's and other leading supermarkets will get a well-deserved and long overdue pay rise. They will also likely receive compensation, which could amount to up to six years of back pay. If you have worked in a Sainsbury's store in England, Scotland or Wales over the last five or six years, you could be entitled to back pay with the Sainsbury's Equal Pay Claim.
It is important to note that only workers who join the Sainsburys claim for equal pay will be entitled to receive compensation.
WHO CAN CLAIM
Anyone who:
Has been paid by the hour.
Worked in a supermarket store in England, Scotland or Wales in the last six months.
Is a current or former employee.  It doesn't matter if you are a current employee or have left your job in this period.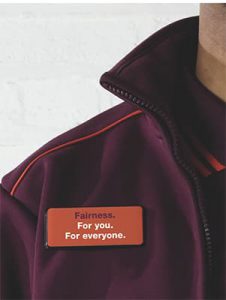 WHAT ARE THE COSTS?
Leigh Day is running this claim on a 'no win-no fee' basis, which means that, providing they keep to the terms of the agreement, our members will only pay in the event of the tribunal finding in our favour. The fee that will be payable in this instance will be established at the outset of the claim.
You won't have to pay costs if the claim fails. An employment tribunal is a cost neutral venue, meaning each side pays its own costs (The rare exception to this is if either party acts in an unreasonable or dishonest way).
Find out more about fees and costs via our FAQs page.
IMPORTANT INFORMATION
It is unlawful for your company to sack you or discriminate against you for joining Equal Pay Now.
Every day you wait to join Equal Pay Now means the amount of compensation you can claim may decrease.
The case for equal pay will be led by the claims of female store workers. If successful, their male colleagues who signed up to the campaign will be able to 'piggyback' this action and will likely be eligible for the same level of compensation.
WHO ARE WE?
We are Leigh Day, a law firm challenging this unequal situation with the Equal Pay Now campaign. We are taking the case to an employment tribunal on a 'no win-no fee' basis. We believe the claim that store and warehouse workers do jobs of equal value is a strong and winnable one.
After winning an Employment Appeal Tribunal last year, we successfully brought the same claim on behalf of ASDA workers to the Supreme Court. ASDA now has one more chance to defeat the claims brought against from over 45,000 employees.
Sign up to Equal Pay Now by registering online or call our equal pay team on 0845 494 0744.
Hear from the store workers who have joined Equal Pay Now
EVERYONE SHOULD BE EQUALLY PAID
---
"I have worked for the company for over 25 years and I feel that everyone should be equal paid."