Next has reported sales 'materially ahead of our expectations' in the last 11 weeks, but the retail giant continues to resist granting equal pay to its store workers. Here, barrister Elizabeth George discusses why staff are demanding more than a hashtag and asks how can Next resist granting equal pay to store workers?
Next proudly and publicly claims #togetherwearenext, thanking all its staff for the hard work that has collectively seen them weather the most challenging of times for the retail sector.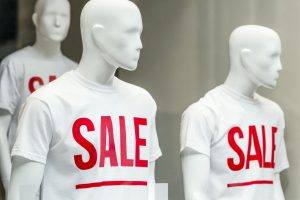 In an Instagram post sharing the exciting news that full price sales had increased by 18.6% compared to two years ago, Next said they are 'so proud of everyone for their hard work and effort'.
And so they should be. Clearly the retail giant recognises that the efforts of store staff have contributed to a rise in sales, but the social media post is lip service only.
At present, store staff, mostly women, earn on average £2 – £6 less per hour than their colleagues in the distribution centres and warehouses. The multinational retailer says this is because store workers' jobs involve less skills and demands.
I challenge anyone to spend a week in the stores – processing daily deliveries, acquiring and remembering the ever-growing range of products, scanning, labelling, displaying, folding, packing, helping customers, training staff and putting up with abuse from customers all while maintaining a smile.
Spend six hours on your feet doing all that and more and then tell me store work involves fewer skills and demands.  Different to the warehouse? Yes. Easier? Not in my view.
As Next touts its profits, the retailer has another opportunity to right this wrong by acknowledging that store workers deserve equal pay, yet they show no signs of doing so.
It's galling to be told what an important role you are playing in making the business the success it is while simultaneously being undervalued where it really counts – in your pocket.
In fact, the situation is not merely at a standstill, staff are actually being treated worse than before.
At the onset of Covid Next withdrew the sales consultant's bonuses which have recently been replaced by a "reward" voucher scheme. The bonus was small and hard to achieve but it was extra money to add to a minimum wage hourly rate, so it mattered.
During the first lockdown store staff were furloughed on 80%, pay with the retailer choosing not to top up their wages.
And, in the most recent lockdown, they were put on flexi furlough meaning they were able to work some of their hours but still suffered a 20% loss of earning for the remaining hours.
The stores may have been closed to the public but many of the staff have been as busy as ever, servicing the online sales that have helped Next stay in good shape.
To paint a picture, one employee told me she did 23,000 steps in a four-hour shift, that's roughly nine miles.
Leigh Day has submitted just over 400 claims to the employment tribunal so far. We estimate that, on average, each claimant could be entitled to backpay in the region of £6,000.
If those 400 clients received this figure, it would cost Next just short of £2.5m. Not small change, but more than affordable for a company that increased its CEO's salary to £3.4m in April this year.
So, while the hashtag has never been truer, it remains just a hashtag.
It's time for Next to put their money where their hashtag is and pay their store staff what they are worth.
Click here for more information about our Next Equal Pay Claim and how you can join.
Posted on