Hannah Thompson* has worked at a Sainsbury's store in West Yorkshire for 10 years. Here, she discusses what Sainsbury's working conditions have been like throughout COVID-19 and explains how working during the pandemic has made her feel unsafe.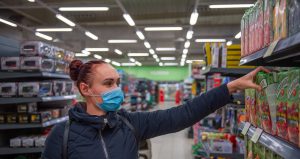 The store I work in is a superstore so it always busy but what's been concerning during Coronavirus is that there's been times when the number of shoppers coming in hasn't been monitored. Jobs take longer to do because you're having to move all the time to make sure you're sticking to social distancing. But some shoppers come in and they just have no regard. Its like they don't think about your wellbeing because you're just a supermarket worker.
When the last lockdown came into force it was during the Christmas period so there was just no way of keeping to social distancing. Shoppers were reaching across people. You feel paranoid because you're working with the public all day and some people just don't seem to care about safety precautions. It feels like our health doesn't matter.
At the start of the pandemic when masks weren't compulsory there were some staff that wanted to wear them, but Sainsbury's wouldn't let them because they didn't want to scare the customers.
Now we have to wear masks but for a long time there wasn't enough hand sanitiser. For the first couple of weeks there was disinfectant and hand sanitiser everywhere but that didn't last.
In the past 6 weeks or so, they've put several hand sanitiser stations around the store and 1 in the back next to our clock-in-machine. There's no consistency.
Sainsbury's have also provided us with hi-vis jackets to wear while we're on the shop floor, but customers still don't take notice of the two-metre distance warning on the back so what's the point in wearing them.
Sainsbury's want shoppers to see that they're taking precautions but they're not actually helping their staff out with things that would actually help us.
Working during the pandemic just makes you more aware of the problems there are at work. You don't feel important or like Sainsbury's think the work you do is essential even though we know it is. All that's important is profit.
It makes equal pay even more significant. Being paid what we're worth would show us that Sainsbury's appreciates the demands of our job and that its just as valuable as the work warehouse staff do.
The issue of Sainsbury's working conditions throughout the pandemic is just one aspect of the inequality store workers face every day. You can find out more information on the Sainsbury's Equal Pay Campaign and how you can join here. 
Posted on