Ever feel like it's given with one hand and taken with another?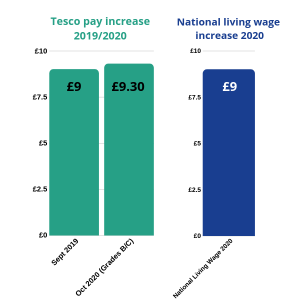 Tesco, in partnership with USDAW, recently gave information about its upcoming Pay Review for Store and CFC hourly paid staff.
All pay rises are welcome; however, these seem to come with a personal cost attached. That is what we mean by giving with one hand and taking with the other.
The personal costs we speak of are:
the permanent removal of your bonus
the gradual reduction of premium pay for working Sundays, nights and/or bank holidays since 2016
With National Living Wage projected to rise to at least £9 per hour by April in 2020, and Tesco describing your pay package as "more competitive than ever… simple, fair and sustainable", you might rightly be wondering who it is fair to exactly?
This Equal Pay claim is also about seeking payment for the higher hourly rates of pay you should always have enjoyed. It's about matching your pay to that enjoyed by your distribution colleagues; rates of pay we say are rightfully yours and which have been denied to you.
Being grateful for this pay rise is good – who wouldn't want a pay rise? We would just like to see it backdated.
How does this affect my equal pay claim?
We are looking into whether similar pay changes have affected those working in the Distribution Centres. If they've retained their bonus, while you have lost yours, then this will form part of your equal pay claim.
Even if they've also lost their bonus, there will be a difference in your hourly rates of pay for which we will be claiming financial compensation.
If you have forgotten how compensation is calculated, we've broken it down for you, check out our Compensation for Equal Pay Explained video.
Be assured that we are doing all we can to get justice for you with your equal pay claim.
Want to find out more first? Check out our FAQs or feel free to get in contact via phone on 0800 689 0570 or via email: tescoequalpay@leighday.co.uk
Blog written by Lara Kennedy, Solicitor in the Tesco Equal Pay Team
Posted on